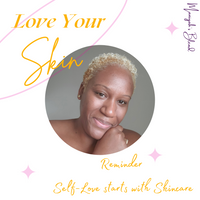 Nourish Your Skin
At Maniyah's Blend we believe in using the best natural ingredients to create skin-loving, moisturizing products with great quality to help nourish and protect your skin.
Using our products on a daily basis may help improve the appearance of your skin allowing your natural GLOW to flourish. We have a variety of products that are gentle enough to be used by anyone, especially if you're dealing with severe skin conditions like eczema, psoriasis, dermatitis, dry skin or have sensitive skin.
So let's get you on the Maniyah's Blend team with some great products for yourself, your family and your friends that will have you all looking and feeling wonderful! Self-Love begins with great Self-Care products that will have your beautiful skin on GLOW!!
SOME OF OUR FEATURED SKIN-LOVING GOODNESS, CLICK THE TABS LISTED AT THE TOP OF OUR PAGE TO VIEW MORE PRODUCTS!!
Amazing body butter

The smell and feel is so glorious. Keeps my skin hydrated all day. I love it.

J. Mckenzie
SOFT & SWEET

I love using this soap for my son and I skin ! It leaves our skin sooo soft to the point I don't have to moisturize after. Also the SMELL is sooooo sweet i couldn't stop smelling it.

Tiffey
IT'S MAGIC IN A JAR

I started using this body butter a few days ago and my eczema has almost cleared up. It's goes on so smooth and has my skin glowing I can't stop looking at my skin in the mirror, Thank you!

Chivette
ONE OF THE BEST!

When I say this product smells amazing and works wonders on my skin I truly mean it. I have tried so many different scrubs and many just don't exfoliate my skin very well or don't smell good. This product does both, my skin feels smooth and refreshed after one use and the scent stays on the skin hours after being used. This is one of my favorite items from Maniyah's Blend.

Caleb Foltz
SKIN SO SOFT !!

Saw results within 1 week of use, my skin became softer and toned.

K. Caesar
ADDICTED.

This one right here is def my favorite of all. I have issues with dry skin, and my legs usually look like crocodile skin. I've been using this here Gods gift to me, and I wore shorts with all pride! My skin is soft and normal now. And the glow, yes the glow!! I am eternally grateful to you for making this. Wonderful soft ladylike fragrance, and definitely not even feeling this on my skin (usually most lotions feel like a layer of junk on me). Natural and Amazing!

Diana
LOVE YOUR PRODUCTS

Being curious I tried your products. Since doing so, I have no regrets. I have tried a lot of different ones, and I love them all. I have also recommended a lot of my friends and family. who are now using them. Keep up the good work. Blessings

A. Caesar
AMAZING!!!

Words can't explain how refreshing and rejuvenated I felt after using this product. I would definitely refer and purchase again. Bye bye dove and Olay.. Hello Maniyah's Blend!!

Candice
BEAUTIFUL AWAKENING SMELL -

This sugar whipped soap has a beautiful awakening smell and feels fantastic on my body. I would definitely buy it again.

Sharon
Self-Love = Self-Care
Cleanse - Exfoliate - Moisturize