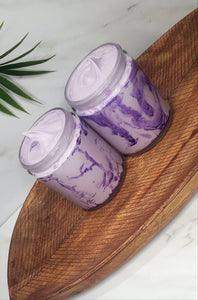 SELF-LOVE

OUR BLEND/HOW TO USE

DISCLAIMER
Girl got GOALS represents the woman that knows she is or can be a leader in the most positive way while accomplishing all her goals, she stands out while looking her very best, hold your head up Queen!
Our body butters are slightly whipped with 98% natural butters and oils giving you a nice rich, thick, creamy, non-greasy texture packed with great skin loving nutrients to enhance your natural glow without the sticky residue. They don't just look great, but they also smell and feel amazing, leaving your skin moisturized and hydrated.
Great for all skin types, a little goes a long way!!
Notes of jasmine & lilies 
Size - 8oz Reusable Jar
Shelf Life 12 Months
This listing is for one product. 
Created Using:
Shea Butter, Sal Butter, Apricot Kernel Oil, Avocado Oil, Grapeseed Oil, Vitamin E Oil, Mixed Fragrance Oils, Arrowroot Powder & Skin Safe Mica.

Usage:
Apply to damp skin for better results, locking in the moisture for up to 24 hours. Can be used all over your body, please test a small area when used on the face for butters containing fragrance.
Our butters are slightly whipped to perfection in small batches using natural ingredients that may change in texture due to temperature on its way to you, we assure you that no nutrients were lost, and your butter is still just as great!
*During hotter months please DO NOT leave your packages outside for long periods of time, we are also not responsible for melted butters, purchase at your own discretion. *
**We do not recommend the use of these products as a substitute for medical care, traditional or nontraditional. Please consult with your doctor if you have any questions about the use of the listed ingredients or if you are experiencing any type of breakout or skin reaction, even if our products are made with natural and organic ingredients. We will not be held accountable if you experience any skin irritations, discontinue use and seek medical attention. Please read the ingredients before purchasing. For External Use Only**