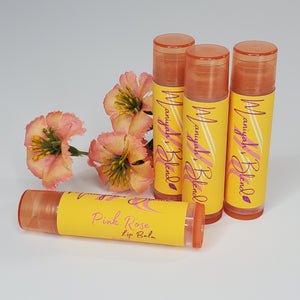 SELF-LOVE

OUR BLEND/HOW TO USE

DISCLAIMER
Show your lips some love!!
No one likes having cracked lips, our lip balms will keep you moisturized all day avoiding dryness or discomfort on your lips! Our lip balms are blended with our home based infused calendula oil making it the perfect skin food for your lips!
Size - 0.15oz Tube

Shelf Life 12 Months  
This listing is for one product.
Created Using:
Shea Butter, Coco Butter, Vegan Beeswax, Sunflower Oil, Infused Calendula Avocado Oil, Jojoba Oil, Rose Clay Powder & Vitamin E Oil.
Usage:
Apply to lips as needed throughout the day.
Our Lip Balms are made using all natural ingredients with no preservative; therefore, they may change slightly in texture due to temperature. Do not leave in direct heat or hot areas as this will cause your lip balm to melt.
**We do not recommend the use of these products as a substitute for medical care, traditional or nontraditional. Please consult with your doctor if you have any questions about the use of the listed ingredients or if you are experiencing any type of breakout or skin reaction, even if our products are made with natural and organic ingredients. We will not be held accountable if you experience any skin irritations, discontinue use and seek medical attention. Please read the ingredients before purchasing. For External Use Only**