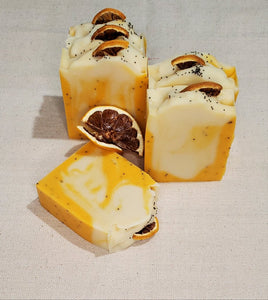 SELF-LOVE

OUR BLEND/HOW TO USE

DISCLAIMER
Such a refreshing bar of soap! From the beautiful blend of essential oils to the feel of the light exfoliation from the poppy seeds, this bar will definitely leave your skin feeling on point, reminds you of a cold glass of lemonade on a hot day!

Size - Approx. 5.5oz in weight
This listing is for 1 bar of soap
Created Using:
Cold Process - Saponified Infused Annatto Olive oil, Coconut oil, Avocado oil, Castor oil, Shea Butter, Distilled Water, Sodium Hydroxide (lye), Kaolin Clay, Lemon, Cedarwood & Patchouli Essential Oils & Poppyseeds. Topped with Dehydrated Lemon Slices.
Usage:
Wet soap, producing a nice lather between your hands and apply to body for a nice natural, cleansing experience.
* To get a longer lasting bar of soap, use a draining soap dish or a soap saver to prevent your soap from melting away while sitting in water by letting it dry after use. We have some great options listed under accessories that will go well with your handmade soaps! *
All soaps and cut by hand and may vary slightly in size, design & color, making it a unique bar of soap!
**We do not recommend the use of these products as a substitute for medical care, traditional or nontraditional. Please consult with your doctor if you have any questions about the use of the listed ingredients or if you are experiencing any type of breakout or skin reaction, even if our products are made with natural and organic ingredients. We will not be held accountable if you experience any skin irritations, discontinue use and seek medical attention. Please read the ingredients before purchasing. For External Use Only**