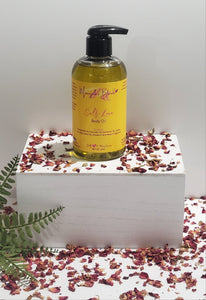 SELF-LOVE

OUR BLEND/HOW TO USE

DISCLAIMER
This blend was created to remind you that Self-Love is important and should be your #1 priority. Self-Love is not being selfish, its essential! So I hope that every time you use this beautiful body oil it reminds you that it's ok to love and take care of you first. Self-Love = Self-Care
Our body oils are created using a luxurious blend of five plant-based oils giving you a nice lightweight, non-greasy feel. This oil will have your body feeling super smooth and hydrated while enhancing the appearance of your skin with the right amount of Glow!
Notes of lily of the valley, orange blossom & ylang ylang
Size - 8oz
Shelf Life 12 Months  
This listing is for one product.
Created Using:
Grapeseed Oil, Avocado Oil, Sunflower Oil, Jojoba Oil, Hemp Seed Oil, Vitamin E Oil & Mixed Fragrance.
Usage:
Apply desired amount of oil on damp skin for best results, can also be used as a massage oil. Not recommended for face! 
**We do not recommend the use of these products as a substitute for medical care, traditional or nontraditional. Please consult with your doctor if you have any questions about the use of the listed ingredients or if you are experiencing any type of breakout or skin reaction, even if our products are made with natural and organic ingredients. We will not be held accountable if you experience any skin irritations, discontinue use and seek medical attention. Please read the ingredients before purchasing. For External Use Only**